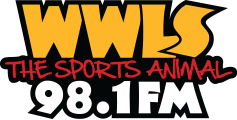 WWLS the Sports Animal is a radio powerhouse with statewide coverage of national and local sporting events. Sports fans can catch the Sports Animal on our network's stations: Tulsa 97.1 FM and 96.1 FM, Elk City AM 1240 and Woodward at AM 1450.
Sports coverage 24/7 of local and national sporting events. Proud affiliate of ESPN and flagship station of the Oklahoma City Thunder.
OKC Thunder
Super Bowl
March Madness
The Masters Championship
Kentucky Derby
US Open
Wimbledon
PGA Championship
University of Oklahoma Sports
Oklahoma State University Sports
Big 12 Sports
World Series
NCAA Football
NFL Football
High School Football
For advertising information and rates both on air or online email Cindy Thompson , Jay Davis or call us at 405-607-2309.
WWLS-FM and KWPN-AM are Cumulus Stations.