Statement from WWLS Program Director Robert "Cisco" Mueller
"Craig has been pivotal in the success of WWLS over the years…from the birth of Sports Talk in the market, covering many years of the Masters, the Hornets and the Thunder early on, to taking over for BBJ…Craig's impact and imprint will always be felt on The Sports Animal! Now, we have a 2nd generation Humphreys manning the controls these days with Sam as a part of the team! Craig, THANK YOU for your service!"
Craig's last day as a full-time host on WWLS will be Thursday 12/21/23.
Post by Craig Humphreys
On Thursday November 16th, I announced my retirement after 31 years in Sports Radio.  I had no idea, when I introduced myself to John Brooks at the Bally's Racebook in Las Vegas in 1992, what it would lead to!  Neither did my wife Bev!
From meeting Brooksie, to the John Brooks Sportscasting Camp at age 39, to a 6 AM show on WWLS called The Morning Sports Page in November of 1992, to two seasons of Oklahoma City Blazers Hockey with Brooksie, the bus rides to Memphis and San Antonio, it was great experience! The next stop was KXXY, where we leased time from John Moen to start SportsTalk 1340 in August of 1995, with a one-room studio engineered by the great Britt Lockhart, I was joined by Jim Traber, Dan Lutz, Mike Steely, Mark Rodgers, Dean Blevins (who we stole from WWLS), Curtis Fitzpatrick, and a year later by Brad Lund, Brian Barnhart, and Ben Buckland. We didn't have ESPN Radio on nights or weekends—when we signed-off at 7 PM, we were followed by Mexican music!
What we did have was a great group of guys who loved sports and were having a whole lot of fun, which gave us great ratings!  That got the attention of the owners of the big FM stations in OKC.  I sold-out to Caribou in late 1997.  They were managed by radio pros Larry Bastida (LB-the Corner Man), Chris Baker, Jay Davis ,and Ray Kalusa, engineered by the great Mike Fields!  We became SportsTalk 104.9 for six months, before Caribou purchased WWLS in the summer of 1998, bringing Al Eschbach and Bob Barry Jr., becoming The Sports Animal!
The first decade-plus with The Sports Animal, I co-hosted either Sports Morning or The Middle-of-the-Day Show with Bob Barry Jr., Mark Rodgers, John Rhode, Doug Gottlieb, P.J. Mills, and others. Then in October of 2008, I began hosting the Pregame, Halftime, and Postgame on the Thunder Radio Network, joined by Jim Traber, Al Eschbach, Gideon Hamilton, Bobby Thompson, and, of course, Matt Pinto, Grant Long, and Michael Cage.  I enjoyed seven great years with the Thunder Network!
Then came the saddest day of my career, the tragic death of my friend and former co-host, Bob Barry Jr., on June 20, 2015. I don't think you ever truly recover from a loss that painful! But I was asked to return as the host of Sports Morning in July of 2015, this time working with Matt Meyer, Pat Jones, Mark Rodgers, Dusty Dvoracek, Brad Copeland, Cale Gundy and others. I planned on coming back for two or three years, but had so much fun that I ended-up staying for eight-and-a-half years! This closing chapter has been a true blessing, working with pros who have fun every day! Speaking of having fun, we have had the good fortune of following the brilliance of The Morning Animals (Spinozi-Phil-Curtis-Carey). They remind me every day about the value of chemistry, and having fun!
Hump's Highlights:
Edmond Football-1993 (a great run to the State Finals, where they lost to Jenks), Norman Football-1994 (color with Tony Sellars)
The Sports Animal Game of The Week, starting in 1998—Maybe the most fun times of my career!—with Mark Rodgers, Charles Thompson, Mike Little, Bob Cortese, Gideon Hamilton, Matt Meyer, Myron Patton,Robert Allen, Joe Atkins, Kevin Boyer, Todd Lisenbee, and doing the stats, Brent Winston and Kent Humphreys!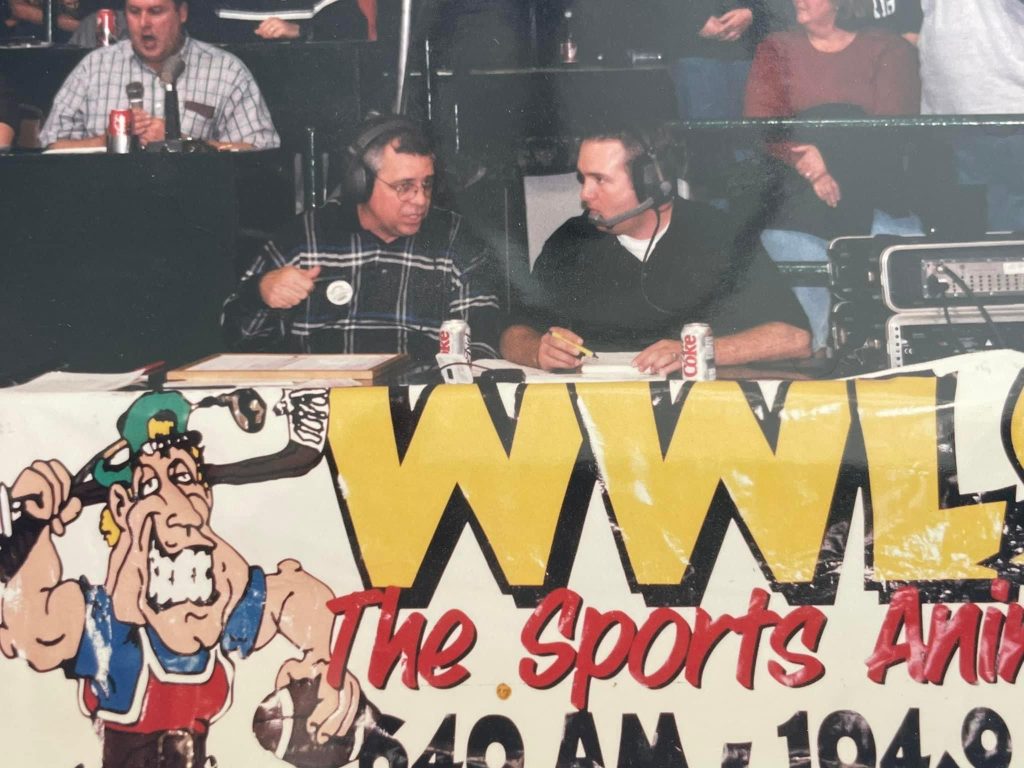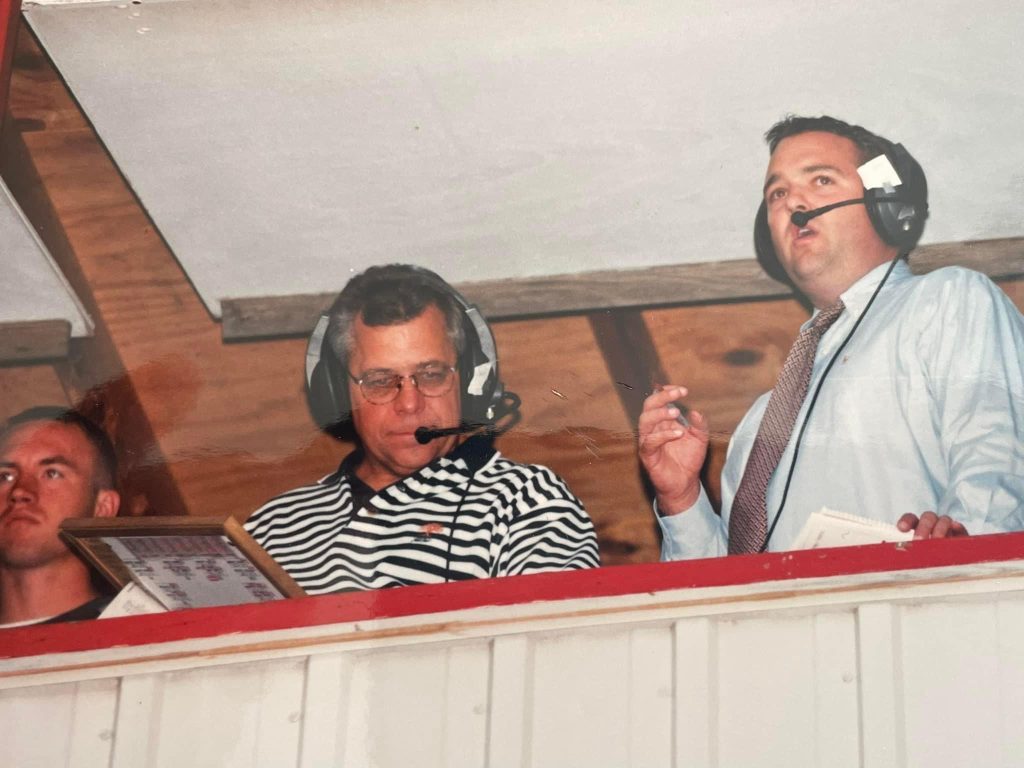 Hosting Shows with: Barry Switzer (2004-2006)  Eddie Sutton (1999-early 2000s)  Chris Paul (his Rookie Season)  Kareem Abdul-Jabbar (2002) "Strictly Football" with Mick Cornett and Bob Cortese (2000-2004).

Television: Strictly Football with Mick Cornett and Bob Cortese (2002-2004), 2001 U.S. Open with Cox Cable, 2007 PGA with Cox Cable.
Covering the Masters (1993-2023) missing only the Covid years of 2020-2021 U.S. Open (2001-2008) PGA (1994, 2003-2008) Working with Westwood One (2001-2006) The Ryder Cup (2004-with the BBC) (2008-The Sports Animal)
Interviewing Tiger, Phil, Arnie Jack …and many others
Thunder Basketball Network—Working with Matt Pinto for the first seven seasons, along with Gideon Hamilton, Todd Lisenbee, Bobby Thompson, Josh Lea, Matt Meyer, Max Eschbach and others–with great engineers like Mike Fields, Jeff Couch, and Mike Mosteller—and Darryl Pinto doing the stats!
Great sponsors like John Johnson, Rick Haynes, Hal Smith, Ed Lynn, Rusty Loeffler, Jeff Johnson, Brad Bowen, Antonio Aparicio, Robert Allison, John O'Dell, and many more!
The pros who kept us on-the-air: Mike Fields, Britt Lockhart, Josh Lupton, Louie Elder, Jay Pitts, Emannuel Rivera, Matt Kappele, Josh Kopelman, Matt Meyer, Matt Ravis, Q-Tip, T-Bag, Tony Z, and Sam Humphreys!
Imaging—Making our station sound BIG!— Leo Cage, Josh Lea, and Ryan Day
Callers Hall of Fame: Scissorhands, Doc D, Paint Brush, Hair Brush, Driver, Hookie-the-Bookie, Wild Aggie Bill, Killer Bee, OU Gino, Lumber Lady, True Sooner, Brent, Alex, Ray, Chuck, Legless Husker, Running Girl, Cascia Hall Chris, Special Recognition—Major Ed Pulido
Those who make sure Jim and Al get paid!  Our Sales Team: Randy McDowell, Tom Hulsey, Stephanie Fitzpatrick, Kristen Davis, Leah Singer, Nichole Shadid, Shannon Pentz, Giselle Leon, Janette Armstrong, Ryan Day, and Cindy Thompson.
The Most Important People: Our Listeners!! THANK YOU!!
And finally, the best bosses you could ever have: Larry Bastida, Jay Davis, Chris Baker, Dax Davis, and Cisco (Robert Mueller) THANK YOU!!
As you can see, I was blessed to work with GREAT, GREAT PEOPLE!!
31 years that I never could have planned! I'm glad Bev talked me into meeting Brooksie! Changed my life! God has a sense of humor!
P.S.—Talk to you in April, from my 35th Masters!  Lord-willing!